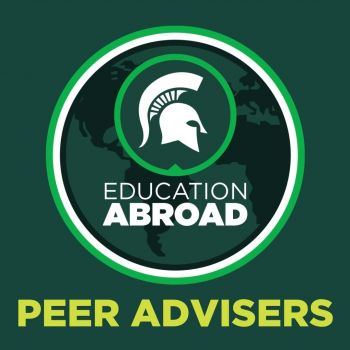 The Office for Education Abroad has several Peer Advisers on staff that are MSU students who have already studied abroad.
They are trained to help you become aware of the range of available opportunities abroad at MSU and are available for in-person and remote advising via Zoom during the fall and spring semesters.
Visit the Education Abroad Advising Center webpage for current hours of operation.
---
Meet the 2021-22 Peer Advisers!
Our current team of Peer Advisers are more than happy to tell you about their experiences, answer your questions, and give you advice.
They can help you find a program that suits your schedule, major and interests. They can guide you through the application process, answer questions about scholarships and financial aid, and offer a student perspective on the various aspects of being abroad and returning home.
---

YASSAH BAH-DEH (she, her, hers)
Major: Biosystems Engineering
Education Abroad Programs: First-Year Seminar Abroad in South Africa; MSU Hillel Fact Finders Mission to Israel
My name is Yassah Bah-Deh. I am a senior majoring in Biosystems Engineering and looking to go into the biomedical engineering field. I have always loved traveling and learning about new cultures. I learned about the freshman summer abroad program (First-Year Seminars Abroad) and wanted to see where I could go. I am originally from Liberia, in West Africa, and had never been back since I was born. Having an opportunity to go back to Africa was very exciting. While there, I learned exactly what I wanted to do with my career - helping marginalized communities, especially in Africa, improve healthcare and education. It sparked my drive to open a clinic in my home country. I learned so much while studying abroad and how other students of different backgrounds behave in new environments, and I believe it is a great experience every student should try.
---

ABBEY GARCIA (she, her, hers)
Majors: Environmental Studies and Sustainability, Spanish
Education Abroad Programs: First-Year Seminar Abroad in Costa Rica; Hispanic Studies in Valencia, Spain; Universidad Pablo de Olavide in Seville, Spain
Hi! I'm Abbey and I am a senior completing my Environmental Studies and Sustainability major with a minor in Spanish. I always knew I wanted to study abroad, and in fact, one of the reasons I chose to attend MSU was because of the wide variety of programs offered. Before my freshman year I was thinking of studying Business and I saw that MSU offered a First-Year Seminar Abroad with a business theme in Costa Rica. I participated in the program and it was one of the most eye-opening experiences of my entire life! I decided to change my major and add a Spanish minor after the program because I was so moved by the experience I had. My sophomore year I studied in Valencia during the spring but unfortunately the program was cut short due to the pandemic. I was determined to go back because I loved every second of the program, so I decided to study abroad again my junior year, this time in Seville, Spain. I am so thankful for my study abroad experiences, as they have completely changed by life, and am looking forward to working in the Education Abroad Office this year to help other students find programs that will enrich their college experience!
---

KALI FELTY (she, her, hers)
Major: Sociology
Education Abroad Programs: First-Year Seminar Abroad in Italy; Semester at Sea
Studying abroad gave me the opportunity to explore new places and meet people I never would have been able to have met otherwise.
I am extremely grateful to have been able to experience and immerse myself in different cultures as well as learn about different perspectives of the world. These experiences allowed me to gain a greater understanding of the world and myself!
---

ALAYNA PETERSON (she, her, hers)
Major: Biosystems Engineering (concentrating in Biomedical Engineering)
Education Abroad Programs: University College Dublin: Summer Physics; Community-Engaged Design in Costa Rica in Costa Rica; John Cabot University in Rome, Italy
Hi! My name is Alayna Peterson, and I am a senior studying Biological Engineering with a concentration in Biomedical Engineering! I am from East Lansing, Michigan so I have been around campus my whole life! My hobbies include photography, volleyball, and traveling. During the school year, I work as a Resident Assistant in Wonders Hall, I've worked at the Wells Hall Starbucks for 3 years, I am a part of Women in Engineering Mentor Program and participate in BE club.
My experience abroad includes three education abroad programs at Michigan State in Ireland, Costa Rica, and Italy, plus I have traveled to 11 other countries. My freshman year I attended the University College Dublin in the Summer Physics program for three months with a group of 60 engineers from Big Ten universities. My sophomore year I took an IAH class throughout fall semester, and during winter break went with the group to Costa Rica for three weeks. This program was especially memorable because we learned about Costa Rica for months before traveling! Lastly, my senior year I participated in an exchange program in Rome, Italy for two months. This program was very independent, where we were shopping and living with local residents. All the programs have different advantages and overall helped me be successful when I am outside of my comfort zone!
---

CARLY SANDSTROM (she, her hers)
Majors: Social Relations and Policy, and Comparative Cultures and Politics
Education Abroad Programs: First-Year Seminar Abroad in Ireland
I am a third-year student at MSU studying Social Relations and Policy and Comparative Cultures and Politics in James Madison College with a minor in Spanish. I studied abroad in Ireland the summer before my first year at MSU and it was an amazing experience. I met some of my closest friends while studying abroad and am now living with one of the friends I made during that program. I am from the Upper Peninsula of Michigan and hadn't had the opportunity to spend much time on campus before attending MSU, but this experience helped me feel more comfortable my first day on campus because I already had a group of friends I could turn to. I also discovered my passion for comparative studies while in Ireland which pointed me to one of my majors. I enjoyed my first study abroad experience so much I'm hoping to go again this summer!
---
Interested in becoming a Peer Adviser?
Applications for 2021-22 are currently closed, but please contact our office if you are interested in applying.  We often need to add one or two positions during the spring semester!
Visit Peer Adviser Position for more details about the job duties and expectations.
If you have any questions about the Peer Adviser position, email us at abroad(at)msu.edu.
---