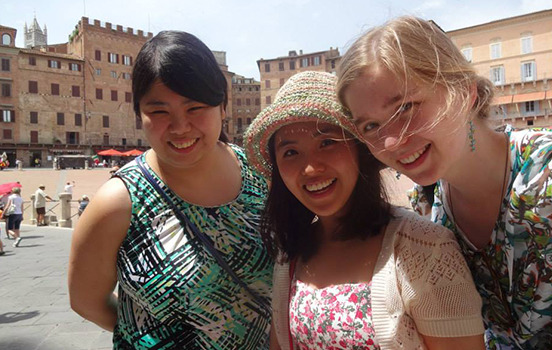 If you're an MSU international student you may already think of yourself as studying abroad here in the United States. However, that doesn't mean you can't also participate in the wide array of education abroad programs offered at Michigan State University.
---
Because the entry requirements and visa process may differ for international students, you are encouraged to start planning as early as possible.
You'll want to begin by meeting with an Office for International Students and Scholars (OISS) advisor to talk about education abroad and how it may affect your immigration status. It will be good to stay in contact with your OISS advisor as you prepare for your experience abroad as well as when you return to MSU to continue your studies.
Undocumented students, refugees and recipients of the Deferred Action for Childhood Arrivals (DACA) program, as well as students, staff and faculty with mixed-immigration status should visit MSU's Undocumented Student Resources for support.
---
Obtaining the Right Visa
One of the most difficult tasks for a non-U.S. student going abroad is obtaining the right visa.
Because visa regulations change often and vary from country to country, the Office for Education Abroad and the Office for International Students and Scholars are not able to assist students directly. International students are responsible for getting any special visas they may need to participate in their program abroad. To help, follow these guidelines.
Make a plan for every country that you will travel to and through. You will need to know your complete travel plans to make sure you have visas for every country you travel through, before, during, or after your education abroad program. You must apply for visas for all of these countries. For example, some students forget to get a "transit visa" to pass through a country on their way to their final destination and they are not allowed to enter the country.
Apply as soon as possible. Many students wait too long to apply for their visa and do not receive their visa in time to go on the program. You may need to travel a long distance to hand in your documents and pick up your visa and you will need extra time. If you are unable to participate in your education abroad program because you did not obtain your visa in time, you may still be responsible for the program fee.
Think about applying from the United States. It may be faster and more convenient to apply for your visa from the United States. Applying from your home country can be difficult and take a long time. For example, students who apply from China often receive wrong instructions and have their visa denied or delayed until it is too late for them to participate.
Keep your U.S. visa current. You must make sure your U.S. visa is current so that you will be able to re-enter the U.S. when you return from your program abroad. You can go to OISS for U.S. visa immigration advice.
You can hire someone to process your visa. You can hire a company that will take care of the application for you, such as Washington Express Visas or A Briggs Passport and Visa.
---