Why I donated to JCMU
Japan Center for Michigan Universities alum, Brenton Sellati, reflects on his time at JCMU and why he contributed to the JCMU CrowdPower campaign
(This reflection was written by Brenton Sellati, a donor to the 'Help Rescue JCMU!' CrowdPower campaign.)
In October 2004 I was a sophomore at the University of Massachusetts, Amherst majoring in Japanese Language and Literature. I began studying Japanese motivated by a desire to build a career in international business. I felt an important part of doing that was speaking a foreign language, and I had always been drawn to Japanese culture.
The only problem was that after one year of solid "B" grades during my freshman year, I was struggling to keep pace with my intensive Japanese classes and was on a trajectory to fail. I decided to withdraw to avoid the hit to my GPA, and resolved to pivot to a new major—perhaps applying to the business school.
As I was walking out of the administration building after submitting the paperwork to withdraw from Japanese language courses, I bumped into Martin "Marty" Holman. Marty taught a mix of high-level graduate translation and entry-level culture courses in the Japanese department. I was in one of his classes for the latter—'Japanese Fiction Through Film.' We struck up a conversation, and my being in the administration building to withdraw from Japanese language study quickly came up.
Marty strongly encouraged me to stick with Japanese and felt I would benefit from a more immersive cultural experience studying abroad in Japan. He had previously worked at the Japan Center for Michigan Universities and offered to sponsor my application to study in the spring 2005 semester, starting in January, if I submitted an application within a week. It was early October; if I said yes, I would be shipping off to Japan in less than three months. This was a critical juncture in my life—I had to decide whether to double-down on Japanese (which I was currently failing at) by committing a semester to studying abroad in Japan, or searching for a new path. I decided to double down and submitted my application.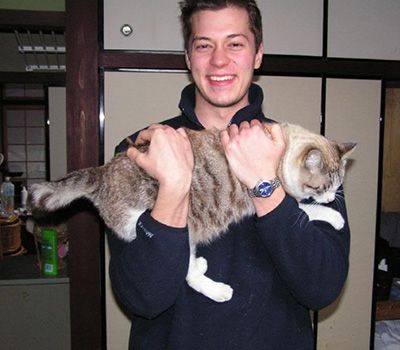 I arrived at JCMU on January 4th, 2005, committed to immersing myself and going all-in on my studies. I lived with a host family along with another student. It was a 25-minute bike ride from JCMU, which was often cold given the time of year. The house had no central heating, which was normal, so we studied in our rooms using desk lamps and kerosene heaters. At night, when the heaters went off, we bundled into layers of blankets, wearing sweatshirts and sweatpants for extra warmth. I often saw my breath misting in the air when I woke up in the mornings.
My host mother Etsuko was a housewife whose children had grown up and moved next door. Her husband was a member of the Japanese Communist Party and something of a curmudgeon. She was very open-minded and maternal, and had begun hosting JCMU students several years prior as a way to share her home as well as stay sane given her empty nester phase of life. She was wonderful. We had many deep conversations over green tea, ate many meals together sharing a kotatsu (low heated table) and played ping pong regularly.
In classic Japanese style, Etsuko preferred not to keep score when we played ping pong such that someone had to win or lose. We would only scrimmage, volleying the ping pong ball back and forth. However, she was still fiercely competitive and if she lost a number of points consecutively, she would start to become animated. She would limber up like a boxer, shaking out her arms and rolling her neck in a circle, at which point she would start trying to aggressively spike the ball to hit decisive winners. Our matches always ended with smiles and good cheer.
The entire semester was magical. It was a combination of working hard at my studies, immersing myself deeply in a new culture, and having memorable experiences within Hikone and traveling around Japan with my JCMU classmates. Crucially, it forced me to cultivate a work ethic and level self-discipline that I had been lacking up to that point. My Japanese teacher—the late Nishikawa-sensei—was kind but just. Like all great teachers, she taught her students to demand more of themselves than they first expected when they entered her classroom. Those lessons live with me to this day in my professional life.
After returning to the U.S., I reflected on the aspects of U.S. norms that I had missed in my time away. Like a typical college student, the top of the list was craft beers and great pizza. I also reflected on the Japanese norms I had grown to love that were no longer available to me, like Pocky, a brand of sweet Japanese snacks); delicious high quality food in convenience stores; Japanese mayonnaise; and much more.
I began researching what it would take to connect the dots to bring some of my favorite aspects of the U.S. to Japan and vice-versa. This line of inquiry led me down a path of deep learning about market research and business strategy for entering new markets. Through that process, I finally realized what I wanted to do as a profession—developing the insights to put myself into the shoes of another to understand their problems or desires, and to solve them through a compelling business strategy.
In the subsequent years, I ended up double majoring in Japanese and international marketing, and went on to get a master's in economics, where the hard work and self-discipline I learned at JCMU paid dividends. In the 12 years since I graduated I have built a career tackling exciting challenges and problems through business strategy and technology. While I do not regularly use my Japanese language skills (which are still there, covered in rust), the lessons learned about myself and about life that I acquired through my experience at JCMU still impact me every day.
So it was with great sadness and alarm that I received the email about JCMU being in crisis. The formative experience I had at JCMU outlined above is why I donated, and why I feel compelled to share my experience so that JCMU will be available for future students.
Visit the 'Help Rescue JCMU!' CrowdPower campaign page to donate.