Gabrielle Kindig - Social Science Scholars in the UK
Name: Gabrielle Kindig
Status: Junior
Major: Psychology
Hometown: Lansing, Michigan
Program: Social Science Scholars Field Study Abroad in the UK
The Social Science Scholars program focuses on interdisciplinary approaches to problems within society, while maintaining a global perspective of empathy and critical thinking; this study abroad was a required part of the program (and probably the greatest mandatory thing ever to exist), with the purpose of having a cultural immersion and gaining that international perspective, while also making progress on our research projects.
In the short month we were abroad, we managed to do so much in so many places. It seemed like every three or four days or so, we were packing everything we owned into our suitcases and taking off to a new place; doing this, one realizes that one doesn't really need much to live, and though I had only brought nine shirts, four pairs of shorts and some leggings, about halfway through the program I found myself thinking I didn't actually need all of it, and that I could've packed lighter still.
On our first free weekend, I went to Venice, Italy with three other friends, and we rode in a gondola, toured the Doge's Palace, and I got attacked by a gang of seagulls who decided my breakfast of a donut looked appealing. Then, we were back to our flats in London for our program itinerary, where we saw the Imperial War Museum, and enjoyed a hauntingly beautiful performance of Othello, in Shakespeare's Globe Theatre. On to Oxford, and we saw many of the places where Harry Potter was filmed, while working on our research in classrooms by day, before befriending locals at the restaurants and pubs by night. On our second free weekend, I went to Dublin, Ireland, with seven other friends; this was a particularly special trip for me, as my family is very Irish, and as I climbed cliffs in Howth or swam in the Irish Sea, it was like feeling a piece of myself fall into place. Lastly, we went to the Lake District, where half of us stayed in a hotel, while the other half stayed in yurts; our housing was situated in a valley, with nothing but mountains and sheep surrounding us on all sides. There, we worked on research, hiked four miles up rocky paths until we were eye level with the other mountain peaks, and hung out with the hotel staff, who were a group of the friendliest, loveliest people one could ever meet.
Then, we were back to London for a day, where we explored new parts of the city and I met up with my cousin, who had moved there some years prior, before catching our flights back home.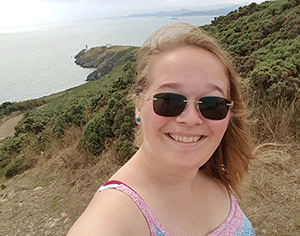 Before this program, I had never left the country before, not even to go to Canada, and so it was somewhat shocking how easy it was to buy a plane ticket and go somewhere. We made all the arrangements for our free weekend trips, and in Ireland, I ended up booking lots of our tours and putting together an itinerary, so this program brought a new level of self-sufficiency that I had never experienced (or really had any reason to experience) before. I have a new confidence in my ability to successfully navigate the world.
They say that travelling with someone either makes or breaks friendships, and even though I had been in class with everyone for a year prior to the program, it was also surprising the extent to which new friendships were made as well. Some people I had never talked to before turned out to be the most delightful people around, and some of the people I didn't anticipate liking turned out to be close friends. Now, classes have started back up again, and I have a fellow Scholar in every single one of my classes; whereas last year I would have stayed to myself in class, now I have friends, and I feel so much more open to talking and being myself in public than I did before.
Overall, this was the program of a lifetime. I got to explore new places with my friends and favorite professor, I furthered my research and learned so much, and best of all, I got to experience more of the world for the first time.