Qi Huang - Social Science Scholars Field Study Abroad in the UK
Back to News
Name: Qi Huang
Status: Junior
Major: Psychology
Hometown: Chongqing, China
Program: Social Science Scholars Field Study Abroad in the United Kingdom
I went to the UK with social science scholars in summer 2017.
First of all, my favorite part of the study abroad is that we got to visit so many different museums in London and learned the history of Britain. For example, while visiting the National Maritime Museum, we learned that the main economic growth in Britain in the 1700s was brought by trading with Asia. That is also part of the reason contributing to the Opium War later on. Actually, as an international student from China. I also learned the Opium Wars in my history class while I was in China. But it was so different to look at these historical events in a different language and from a different point of view in London.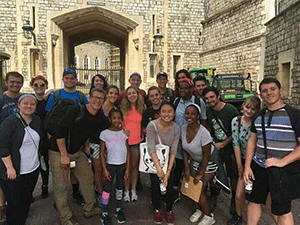 Second, what surprised me is that London is such a multi-cultural city. There are more than 300 languages spoken in London. We can see people from all over the world while we were exploring around.
Third, I was also surprised by the history of plague while visiting the English village Eyam. It was very impressive that villagers made the decision of isolating themselves in order to prevent the spread of the plague. I was really surprised by how humans could behave in such extreme situations.
Last, this experience will definitely benefit me in the long term. I got to know each scholar so much better after study abroad. And everyone was supporting each other and helping each other out. The experience taught me that how important it is to know the history of a place if you really want to understand why it is what it is today.